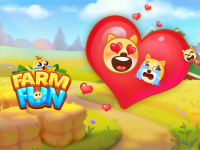 Farm Fun is an easy puzzle where you need to get two farm animals together in a barn.
After spending the day out in the pasture or enclosure, farm animals need to return to the barn. Your job is to guide the animals within the barn using your mouse or finger. You must stop other animals from following the same path. You may instruct the animals to go on the other side.
They should then form pairs and finally unite at the bottom. This is the basic principle of parking games. You must direct vehicles to park in the right order. Farm Fun includes numerous hurdles. You can avoid the many barrels, fences, and shrubs if you plan ahead. Follow the numerous gold coins. These coins could be used for power-ups to help you overcome obstacles on more challenging levels.
You might also like Tank Trouble, which guides cars out of parking lots.
How to play
You can use your mouse to play this game.