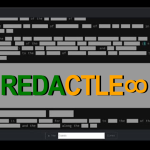 Welcome to Redactle Unlimited! Let's play the newest version of Redactle without any restrictions! A random Wikipedia article's title is reset each day, so guess the words to show them on the page. New quiz daily!
Redactle Unlimited will let you play the role of a magazine editor with the task of finding hidden keywords in an article and determining its real topic. This is a challenging task because almost all the words have been deleted from the article. You also don't know the topic to guess the deleted words. However, you can make multiple attempts. If the guessed word is in the article, it will appear on the right side of the screen and in all places where it is placed in the article. That way, the more correct guesses you make, the more likely you are to complete the article. After you have guessed the whole keyword and found its topic, the article will be done.
Redactle mines more than 10,000 of the best Wikipedia articles and allows you to play with an unlimited time and number of attempts. Millions of people are challenging themselves with Redactle every day. Are you ready to be challenged with this new puzzle storm?
How to play
- Enter a word in the input box on the right side of the screen and use the guess button to see if the word is in the article.
- All occurrences of that word will not be displayed in the body of the article.
- Guess the topic of the article to win.
Tip & Trick
- Only one word can be guessed at a time.
- The words to be guessed are not case sensitive; diacritics (é, ü, etc.) are considered non-existent.
- Shift+Enter will try to automatically pluralize or singularize your guess.
- There will most likely be some formatting and grammatical issues. These are the results of removing specific characters and components from the original Wikipedia page that don't play well with Redactle.
- For setup options, go to the Settings menu.
Top hot game
If you like Redactle Unlimited, you may also enjoy the following hot word games:
- Weddle
- Statele
- Flagle
- Heardle
- Factle
- Footdle