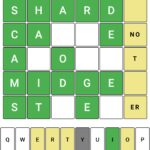 Squareword is a daily word game that's similar in concept to Wordle but with a unique playing style. It can be played in two dimensions. We can testify that the game is addictive because there are new puzzles every day.
It's an easy game. You must correctly guess five letters to reveal the word square. Squareword will display the number of attempts you made to solve the word square. It will then give you the option to share it via social media. You can only play it once per day in daily mode. However, you may continue to play it in the random mode for as long as you like. You can test your intelligence right now!
Controls
This puzzle has grown highly popular due to its simplicity of use and the fact that you only have 15 attempts to complete the assignment (the same for all players). If the user solves the word, the opportunity to play again will not be accessible until the next day's word. It is a success in our opinion since it is portrayed as an addicting activity.
After 15 or more attempts, identify the hidden word.
Every effort must include a genuine 5-letter word.
After each try, the color of the letters changes to represent how close you are to spelling the word.
There are ten hidden words.
The horizontal and vertical words in the square box must all be solved.
The difficulty is the same for everyone.