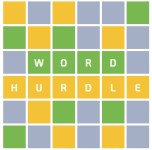 Word Hurdle is available for you to exercise your mind and relax on our website for free. In this game, you will feel feelings that you have never felt before. This is a guessing game in which you may come up with whatever term you choose. You will win if the term is correct. Word Hurdle is an open scenario that inspires your creativity. This game is well-known for providing a variety of unique experiences for players while also exercising the brain and developing thinking skills. Join us and challenge your friends!
Controls
- If the tile turns green, it's the correct letter in the right spot.
- If the tile turns yellow, the letter is in the word but not in the right spot.
- If the tile turns grey, the letter is not found in the word.
- The 5th and final Hurdle puzzle will be prefilled with the answers from the previous 4 Hurdles. You only have 2 chances to solve it.