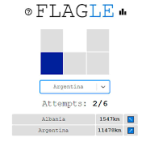 Flagle is a popular Wordle-inspired flag guessing game. However, your goal is not just to identify words but also to predict the flag of a nation or area in the smallest number of trials feasible. You have many opportunities to guess the name of the nation. In Flagle game, the flags will be shown. The color palette displays the common colors to aid in guessing. Flagle's guessing game is straightforward and well-crafted. Are you willing to put your memory to the test?
Controls
In six trials, find the secret flag.

Each attempt must come from a valid country on the list.

After each try, the game will unveil a new section of the flag and provide a distance indication.