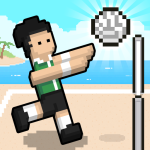 Volley Random is part of the Sports Random Series, which also includes Basketball Random and Soccer Random. Matches can be played indoors or outdoors, at different times of day and night, in all seasons. A player must score at least five times to win.
One player will send a large ball, such as a dodgeball, basketball or white volleyball, to the sideline of the net running along the middle of the court. The player must get the team members to raise their arms and run onto the court. They may have small or large bodies, limbs that are short or long, average or large heads, medium or big heads, or a huge head. They can wear uniforms or business attire.
Volley Random provides several challenges. The ball hits the imaginary boundaries behind each team. The net may rise or fall during play, which can cause the ball to bounce harder than it would if it were stable. It may be a bomb if the ball is on a countdown. Everyone on the side of the ball will die if the countdown falls below zero before it hits the ground. Volleyball Random is a disaster!
Are you a big fan of volleyball or other ball sports like basketball? These titles are great for you!
How to play
Player 1: "W"

Player 2: "UP ARROW KEY"
You can play the game by touch controls on mobile devices or tablets.