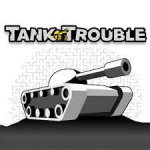 Tank Trouble is an interactive tank game where you navigate a labyrinth to fire missiles at your opponents. This game is perfect for two friends looking for something simple but fun. After the game has loaded, choose "1 PLAYER", if you want to play against a computer, or "2 PLAYER", for two or three people.
The goal of the game is for you to destroy your opponent's tank by using your vehicle on a variety of levels. Tank Trouble will give you additional information. Throughout the game, there will be many bonuses. You will get an increase in your firepower if you accumulate these perks. By refueling your fire with an accurate calculation, you can beat your adversary. The buttons to the left allow you to change the game's settings or switch on or off the sound. Play multiplayer with your friends to have some fun and compete against them!
If you like Tank Trouble, you'll probably like Musical Mahjong or one of these great Arcade Games.
Controls
First select the game mode you want.
Player 1: Move with "Arrow Keys" and shoot with "M" KEY.
Player 2: Move with "E, S, D, F" keys and shoot with "Q" key.
Player 3: use "Mouse" to control your tank.