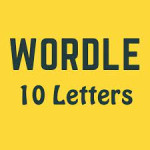 Wordle 10 Letters is an online game where players can guess words based upon their meanings. This game is great fun to play with friends and family. These games are great for relaxing and expanding your vocabulary.
Word games have the advantage of being easy to play and requiring no special equipment. All you need is a group of friends, some paper and some spare time. Enjoy hours of fun with these funny 10-letter word games.
Simple rules: Six chances are available to correctly guess the 10-letter secret phrase. Insert any word on the first line to begin. If the letter was properly positioned and predicted, it will be highlighted in green. If you wish to modify the mode of the game, you may try Wordle 4 Letters, Wordle 5 Letters, Wordle 6 Letters, Wordle 7 Letters, Wordle 8 Letters, and Wordle 9 Letters. Let's get together to play!
Features
Entertaining gameplay
Controls that are simple to use
Challenging gameplay
Daily challenges
Controls
You have six chances to guess a 10-letter target word. As a hint, the letters flash up in different hues after each guess:
Green indicates that a letter is correct in this location.
Yellow indicates that a letter is missing from the target term.
Gray indicates that a letter does not appear in the target term at all.