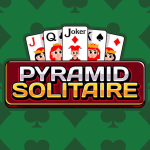 Pyramid Solitaire is a variation of Klondike Solitaire. The cards are stacked in a pyramidal form rather than in traditional horizontal rows. Play is possible in the first and second rows. You can mark a card on the tableau to make it open for play. To reach the card in front, you can take out a pair. A card's rank determines its numerical value. A king is worth 13, the value of aces is 1, queens are 12, and 11
You must pair up cards so that the total value of each card is 13. You only need one click to remove the king (worth 13 in this game). Now it's time for you to put your matching skills to work! They'll disappear after that. Both paired cards should have a common highlight. After you have exhausted all options, click on the stash. This card can now be used in games. This card is compatible with all cards in the current game. You can click the stock pile to create a new deck of cards. While the first card is being shuffled, both cards will remain in play. You can also play matching cards with the stock.
To win, you must match and remove all the cards from the tableau. Did you have a great time playing Pyramid Solitaire? You can find everything in our free collection of solitaire games, from FreeCell Solitaire Blue to Golf Solitaire.
How to play
Remove all cards by pairing cards to a value of 13.
An A=1, J=11 and Q=12 points.
A K=13 points and can be removed as single card.