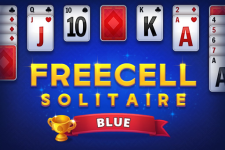 FreeCell Solitaire Blue is a classic version of one of the most famous computer card games. This version makes it easy and straightforward to play the original version. You can focus on the mental and physical challenges and have fun while doing so. These same principles are used to stack cards with four distinct suits (spades, clubs, hearts, and diamonds). You can start at the ace and then move up to the king.
The 52 deck cards will be shuffled into eight piles and placed face down on the board. Four empty cells will be available for you to insert cards to simplify the process of sifting through the deck. The ultimate goal of the game is to build the stairs in ascending order while only moving one card at a time. Are you ready for history to be broken? Is this the best time for you to sign up?
Features
No cost to play

Blue panel

You may see a game's movements and completion time.

You may redo moves
Controls
Drag left mouse button to move a card.
How to play
How To Play Freecell Solitaire Blue