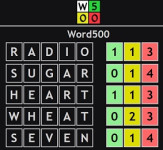 Word500 is a word puzzle game that challenges you with its challenging clues. It tells you the number of valid letters, but not which ones. You can play the game online. This game allows you to identify the hidden word within the given time limit of eight turns. It will only suggest the total number of letters, not each one. It works in a similar way to Wordle, in that it determines whether letters are in the correct or incorrect position. I hope that you have a great time!
How to play
Find the hidden word in as little as eight attempts. The green, yellow, and red squares to the right of each guess indicate how close you were to correctly guessing the hidden word.
Word500 is available in eight different languages and three distinct difficulty levels. German, Dutch, Italian, Portuguese, Catalán, English, French, and Spanish are among the languages supported. On Standard difficulty (green smiley), the secret word cannot include letters that appear more than once (for example, ORDER), and certain letters are omitted.
Every day, a new hidden word will be assigned to each language and difficulty level. Each participant gets six guesses at the proper word. This means you can figure out what the word is and where the letters are by using your first five guesses. I hope you like it!