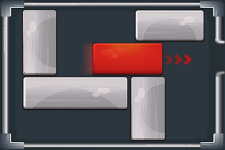 Unblock Puzzle is a logic game in which you have to remove all blocks except the red. This can be done by moving those blocks. Use your skills to earn the highest grade possible. This puzzle game is fun for everyone. To remove the red block, you will have to move the other blocks around to make room. You should find the shortest route possible to achieve your goal. Other players may give you hints if you're struggling with a particular level. You will find all levels challenging and entertaining. Some of our other offerings may appeal to puzzle-game lovers like Donhoop.
Features
Contemporary images at 240 levels.
Numerous suggestions to aid players.
There are four difficulty levels for brain training.
How to play
Use the left mouse button to move the blocks.