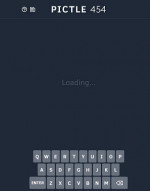 Pictle is a companion game to Wordle. It allows players to create pictures based on the Wordle challenge. Wordle requires a new approach, so you will need to adapt your game plan. This is the type of game you'll play. Wordle rules require you to create an image. The artwork should be inspired by the Wordle puzzle from seven days ago. Wow!!! Wow! We're sure to have a great time with your friends!
Controls
A term may only be used once, and utilizing uncommon letters increases your chances of winning.
The Gimme button will solve up to three lines automatically, but they will not count towards the total number of letters.
If you haven't utilized a freebie, you may start anew using Reset.
By double-clicking a previous row, you may make modifications to your forecast.