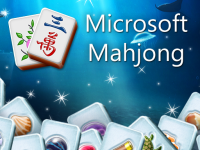 The updated version of Microsoft Mahjong tile-matching game has over 40 puzzles and Daily Challenges. It also features a new design and feel. You can unlock traditional mahjong levels and new levels. Each level may be played at one or four difficulty levels. You can set animated backgrounds to a Chinese garden, underwater, or space theme depending on your preferences. The classic version of the Shanghai card game has a reshuffle feature. You can also undo multiple moves at once by going to the match history.
You must complete daily challenges to prove that you are the best online mahjong player. For example, you could have to match up mahjong tiles of the same color or play a mahjong competition with a time limit. This free mahjong game includes many extras that could make it one of your favorite daily games. Musical Mahjong is another great mahjong games that you might enjoy if you like this one.
How to play
Left mouse button to select tiles.