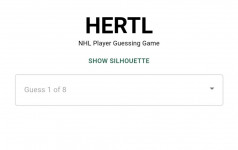 The Hertl game is similar to Wordle. However, it asks users for their identification from a database. NHL Wordle is another name for this amazing game. We will explain what the Hertl means, how you can get it, and why you should play it online. The game is different from Wordle because you have to identify an unknown NHL player. This online game is for those who love the NHL.
You can play this game every day in the challenge mode or randomly. Hertl requires you to correctly identify an NHL star within eight attempts. This difficulty level is higher than the original Wordle. We will show you how to play Hertl and give you tips for improving your skills.
Hertl is an easy game to learn. After eight trials, you will be able to correctly identify an NHL player. You can share your Hertl puzzle on social media. Tell your friends!
Controls
Identify the NHL player in the fewest tries possible.
The solution player will be a current fantasy player.
The color of the tiles will change after each guess, depending on how close you were to the player.
A match is shown by green in any column.
The color yellow in the division column shows that the conference is correct but the division is incorrect.
Yellow indicates that the correct number is within 2 (inches, years, or numerals) of the player in the position, age, and country columns.