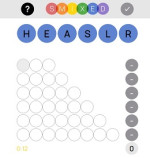 Smixed is a word-guessing game that requires players to guess the words based on the instructions provided by the color tiles. The only objective of this round is to find the hidden word's identity by using the clues provided by the letters. You can choose from a range of games in our Word category. One is where you must guess words that have been condensed together. These games might appeal to you. This is an amazing opportunity! Get involved with Smixed now to enjoy the amazing opportunities available.
If you love this game but want something more challenging to do with your leisure, try one of our word games like Joined Words. Have a good time!
Features
Don't be scared to utilize your imagination and be creative when selecting your words.
An interesting and enlightening test of one's English language proficiency.
A competition's stakes and tension are increased by adding a time restriction.
The game is now more challenging as a consequence of the difficulty level rising.
Controls
The goal of Smixed is for participants to complete the task by giving the missing words in the order indicated. Any phrase supplied will always begin with a letter that is deemed legitimate. Each round will be given a different time limit. Make full use of the in-game help system!