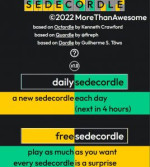 Sedecordle is a word puzzle game in which the player must uncover the hidden word. This game is the most powerful Wordle substitute. While the player's aim on Wordle is to identify a word with five major letters and is only permitted to guess six times, Sedecordle challenges you to uncover 16 mystery five-letter words. Players discover that 16 mystery words are difficult to pronounce, making the game one of the most challenging word puzzle games available today. When attempting to guess all 16 words, you have a total of 21 trials. When you input a word and hit Enter, the right letters and the answer will be green; the incorrect letters will be yellow. As a result, as you move through the game, you will be unable to use the available letters.
Controls
Guess all sixteen wordles in 21 attempts.
Every guess must be a 5-letter word.
To submit, use the enter key.
The color of the tiles will change after each guess to illustrate how close your guess was to the word.
- The blue letter is in the word and in the proper place.
- The yellow letter is in the word, but it is in the incorrect place.
- The back-letters appear nowhere in the word.