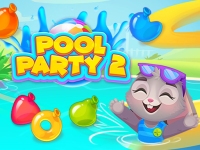 Pool Party 2's Match-3 game requires you to match balloons of the same color. You will be amazed at the amount of pool party fun you can have!
Softgames brought this puzzle-like game to you. Your goal is to cause the balloons to burst. By lining up three or fewer items of the exact same type, you can accomplish this. Each water balloon has its own unique shape and color.
Two balloons close together can be moved clockwise. The right combination will cause the balloons to pop. If that doesn't happen, the balloons will return to where they were.
All the necessary objects to get to the next level can be found on the panel to the left. Good luck!
How to play
Use the mouse to play
Tap on an icon and drag it to a neighboring balloon to make them swap places