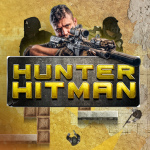 Hunter Hitman is an action game where you play the role of a hitman who has a knife as his only weapon and all other talents are geared towards completing this task. You can track down your enemies and kill them. Stealth is your friend when it comes to killing enemies quickly. The speed at which you kill your enemies will directly affect the amount of combo you get and the potential reward.
Loot boxes can contain cards that you can redeem for cosmetic upgrades to your character's appearance. You can open loot boxes by collecting coins. You can enhance your heroes by combining three cards from the same deck.
Although the mechanics of the game are simple to learn, they can be difficult to master. The concept is high-octane action.
How to play
Use the left mouse button to sneak up on your enemies.