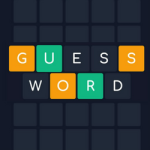 Guess Word is a logical and observational game in which you must guess the right word by examining the surrounding letters of that word. There are plenty of difficult stages to guess at in the game. After six attempts, you must correctly guess the four concealed words. With each new attempt, you'll be informed whether or not each letter is in its proper location through the display color. For the harder instance, you must correctly guess 6 concealed words after 6 challenges. Can you find all of the hidden words and finish all of the levels?
How to play
Use Mouse to select.

Use the letter buttons on the keyboard to enter words.