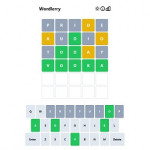 Wordlerry is the perfect fit for Harry Styles and Wordle fans. Wordlery is best described as a Harry Styles-inspired copy of Wordle. The rules for Wordle are the same, but the answer to the question will almost always be related to Harry. Similar to Wordle, the tiles will turn a different color with each guess. This is to show you how close you are to correctly guessing the word. This could be due to his music choices, the kind of music he listens to, or something else. If you don't get the correct answer, you won't be able to guess the next word until tomorrow. Have fun!
If you want to play more games like Footdle, be sure to check out our selection of free and online Word games. Enjoy!
Controls
Choose a five-letter term related to Harry Styles that may be the word of the day. After you've finished inputting the word, press the "Enter" key.