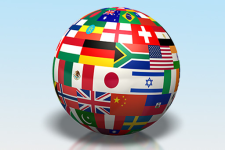 Quiz - Guess The Flag is a fun, general knowledge game. It tests your familiarity with and ability to recognize flags from all over the globe. This flag quiz can be an excellent way to increase your general knowledge if you cannot match all the countries. You can play this fun quiz online at no cost on our site.
Most likely, you are familiar with the designs of flags from Germany and Italy. It is also well known that the flag of the United States (or the United Kingdom) is widely recognized. But, would you be able to recognize the flag of Liechtenstein if it were on your list? You might also try the one from Lithuania. When you have participated in the entertaining quiz enough times, everyone will be able to be identified. Are you willing to get lost in the world's geography? If you are interested in the flags and maps of different countries, this game can be a lot of fun.
Features
A multiplayer flags quiz game
Training, Quiz, 8 Flags, Find Flag, Choose Country, and Multiplayer are the six game modes.
A comprehensive listing of national flags
Clear and uncluttered UI
Compatible with mobile browsers and applications for portability.
Controls
Press left mouse button to play.