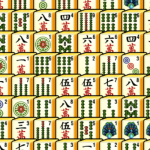 Mahjong Connect is a tile-matching puzzle that is free to play. Is it possible to complete all levels of this game?
Each has a board that contains many tiles. This Mahjong game requires you to match tiles quickly. While the timer will gradually decrease as you play, each successful match will increase its value.
Is it possible to connect all of the tiles within the given time limit? The suggestion can be used to your advantage if the situation is not clear. It will indicate two tiles that could be connected. This can be very helpful if you're losing precious seconds. Mahjong Connect appeals to all board game enthusiasts, no matter your skill level.
How to play
USE THE MOUSE to find tiles to match.
LEFT CLICK to connect and remove them from the board.