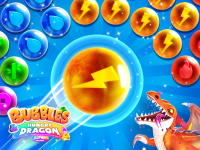 Bubbles & Hungry Dragon is a funny online fighting game that lets players command their dragon to attempt to pop as many bubbles as possible.
You can choose your dragon to fight against two enemies. The classic match-3 game principle is still in use. To eliminate them, you must connect at least three bubbles of the exact same color. Clearing larger clusters will give you more points and decrease the likelihood of the bottom row crossing the line. Fireball is a bonus ball that allows you to destroy any number of bubbles in a group. You will receive gold coins at the end of your round. These can be spent to buy more dragons that are faster, more energy-efficient, or have better aim. Different dragons have distinct stats. Bubbles and Hungry Dragon will ask you to pick which feature you are most proud of and how to gain an advantage. Bubbles & Hungry Dragon is a battleground where you can create bubbles!
Controls
Move the mouse to aim and click on the left mouse button to shoot the ball.